MUSIC REVIEW: Songwriter Lucy Kaplansky Comes To Vermont..
By Rob Williams - Posted on October 15th, 2008
Image: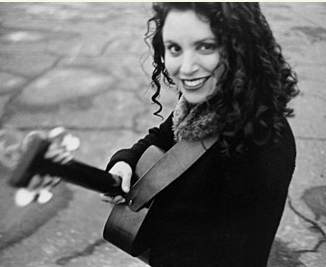 "A truly gifted performer, full of enchanting songs," gushes The New Yorker.
"The troubadour of modern city folk," exclaims The Boston Globe.
"As warm and tasty as cinnamon tea, as hopeful as daybreak," proclaims Rolling Stone.
The performer in question is New York City singer-songwriter Lucy Kaplansky, one of the most nuanced and gifted folk musicians of our generation. And Valley residents will have an opportunity to share the love when Lucy comes to Mad River this Saturday as part of the Valley Players Showcase acoustic series capably assembled by Bruce Jones and his trusty team.
I've been listening to Lucy for years, first noticing her unique musical mojo when she provided back-up vocals for well-known songwriters like the Big Apple-based Suzanne Vega, Boston's Shawn Colvin (back in the day), and Jersey Boy John Gorka. Kaplansky's voice has a mesmerizing crystalline quality to it – not quite as "hide, wide, and lonesome" as, say, Allison Krauss, but equally arresting, and she uses it to full dynamic effect in all of the projects in which she is involved.
And fortunately for all of us, Lucy embarked on her own solo career several years ago, crafting songs that are at once intimate and personal, but also in a powerful and understated way that speaks to the universal human experience. When you hear Lucy perform, you are reminded, as Marcel Proust was with that little gateau, of your own moments, your own "a ha's," your own transcendental experiences, even the small ones.
And this, perhaps, is Lucy's greatest genius. She can turn a seemingly mundane or clichéd moment – "hey, look, the moon" - into magic through the power of song. She has this knack for immediately "placing" the listener in another world with laser-like precision and great compassion, as she does in the first verse of the first track of her new CD, entitled "Manhattan Moon:"
You say you want to see the moon
Outside of our living room
Over the Manhattan sky
Like we saw last night
And then she connects that moment with the larger universality of the human experience, with the chorus, like so:
I used to travel in a straight line
Now I'm walking on a road that winds
You take my hand we take our time
Oh, we take our time…
A simple and very effective songwriting formula, and Lucy uses it to maximum effect.
She is also smart enough to surround herself with some remarkable musicians – veterans of the songwriting world: the masterful Duke Levine on the high strings (electric guitar, mandola), Ben Wittman on percussion, and standout vocalists like Jonatha Brooke and Richard Shindell on harmony vocals.
Lucy has another nifty talent, as well – she is a fine (and daring) interpreter of other people's music. Case in point: on an earlier album, she throws down the most remarkable version of an old Police tune from "Ghost in the Machine" called "Secret Journey." I laughed at her hubris when I first heard her– after all, what is a singer/songwriter from the Big Apple thinking, recording a Police song? – but by the end of the tune, I was hooked.
On her new CD, she pays homage to June Carter Cash (rendering her own sexy version of "Ring of Fire"), Bryan Ferry (Roxy Music's cult classic "More Than This"), and the under-appreciated but wonderful wordsmith Loudon Wainright III ("Swimming Song"). On this last one, she does what she does best, taking a funny song, and making it both funny and poignant.
As a complete musical package – singer, songwriter, straight-ahead musician, and gifted storyteller – Lucy is awfully hard to beat. I've seen her half a dozen times over the years, and I'll probably go hear her again this Saturday night, to be reminded of music's power to captivate, heal, and inspire.
Hope to see you there.